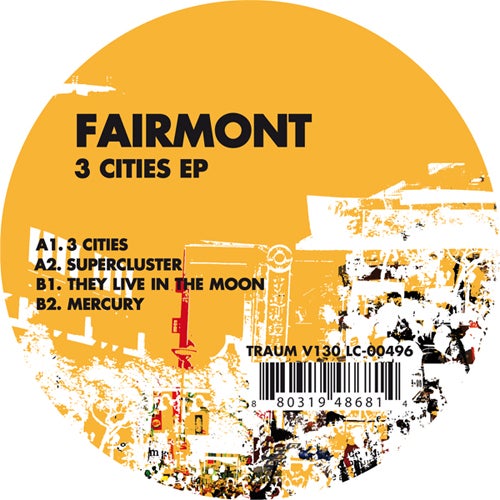 Release Date

2010-09-23

Label

Traum

Catalog

TRAUMV130
Welcome back Fairmont.
Born in the precious year of punk rock 1977, the Toronto based artist has always clung with his heart to the likes of The Stooges, T. Rex, Spacemen 3 and so for us it is no surprise that Jake makes a tight connection here also with his alias Fairmont. Fairmont is considered the semi-famous "soft" side project of producer Jake Fairley which has become more and more famous over the years.
Originally the Fairmont project was initiated with Jacob Fairley together with Traum resulting in two 12"s (Mansfield and Palace Pier EP) and a full length album called "Paper Stars" in 2001.
Fairmont later released two 12"s and an album on Border Community in 2007/2008.
So Traum is happy to see Fairmont's comeback with 4 brand new unreleased tracks.
The title "3 Cities" refers to his life as a techno troubadour, constantly moving from one city to the next, composing and performing in different environments. All three songs were composed in Amsterdam, Berlin and Toronto.

The EP starts with the title track "3 Cities". A sonic track. Opening with an appegiator sequence, the track changes very much in following minutes. A true psychedelic and amazing track unfolds here in which the climax is step by step generated leading to indistinguishable inflammable vocals by Jacob Fairley himself .
A wall of sound, dissonant sounds clashing, imploding energy, the track reveals a cosmic and dreamlike state.
For everyone knowing Fairmont this track certainly is very different to anything he has done in the past on any other label.
With the second track "Supercluster" a dramatic and mighty electro epic is put into gear.
Shaping distorted and intensive correlating sounds, this track is a rollercoaster of an emotional trip.
This puts him next to Ricardo Tobar, who has released similar music on Traum and certainly on Broder Community.

We cannot imagine that there is another track out these days like "They Live In The Moon" written by a techno producer who manages to recaptures the spirit of the 60ies psychedelica. Somehow nostalgic when Jake sings then almost techno when the sequence takes over... this is a unique blend of the present electronic music and the past.

"Mercury" could be have written by Terry Riley or other musicians who were labelled minimalist in the 70ies. Again Jake shows a great insight of electronic music and makes this EP a gripping journey.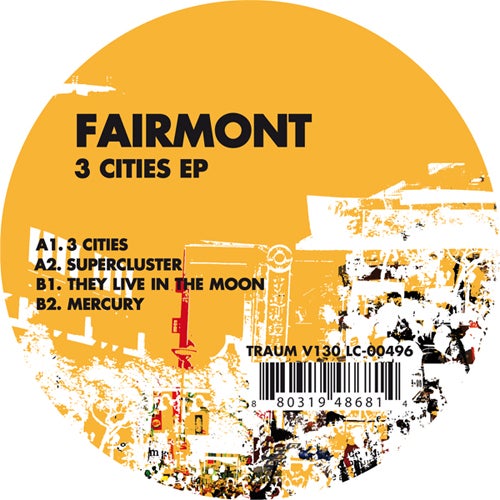 Release
3 Cities EP
Release Date

2010-09-23

Label

Traum

Catalog

TRAUMV130